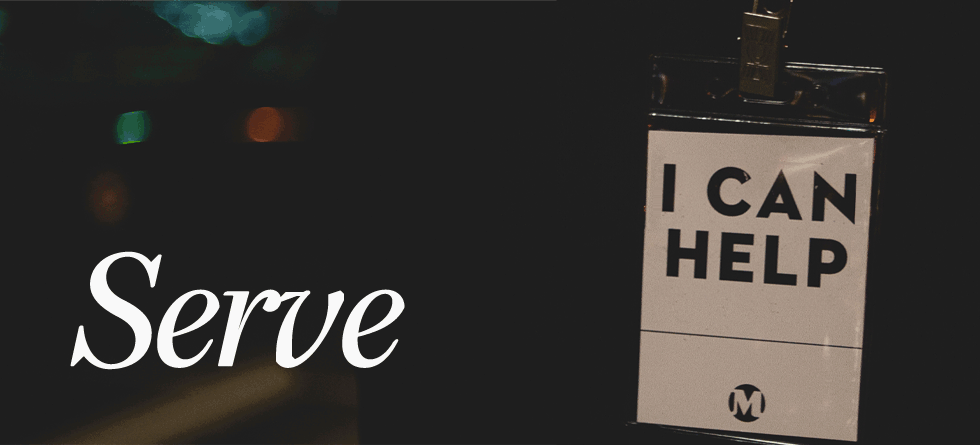 Volunteer
You're needed.
If you've been served by Mars Hill, whether it be through greeters on Sundays, teachers in your child's Mars Hill Kids classroom, enjoying a cup of coffee or tea before service, clean bathrooms stocked with toiletries, security who keep our kids and worship environment safe, musicians on stage leading us in worship, or any number of other ways—chances are you've been served by a faithful volunteer giving up time and talent to serve Jesus by serving you.
At Mars Hill, we intentionally keep our budget and staff small and rely on a huge community of volunteers who love Jesus and love to serve his church.
And we're always in need for more help.
If you consider Mars Hill your church, we ask you to serve as a volunteer. By doing so, you're an essential part of helping others meet Jesus. And if you're a member, you've committed to serve generously as part of your membership covenant.
There are a number of opportunities to serve at all of our Mars Hill churches. To find out how you can serve, contact your local Mars Hill church.
Looking for information on available Internships?
---
Residency Programs
We currently offer two residency programs at Mars Hill Church.
Lead Pastor Residency
Do you feel called to be a lead pastor at a Mars Hill church? Do you have experience leading and developing leaders? The Lead Pastor Residency Program gives you the necessary knowledge and skills to be a Mars Hill lead pastor. The residency is designed for men who have a track record in leading and feel called to the mission to plant more Mars Hill churches. If you feel like this is you, then we would love for you to apply.
Executive Pastor Residency
Do you have experience stewarding resources? The Executive Pastor Residency equips you to lead in the role of executive pastor at a Mars Hill church. It exists to send out called and competent men who can faithfully implement the vision of the lead pastor and have the ability to spearhead the day-to-day operations of the church. If you feel like this is you, we would love for you to apply.
Learn more about our Residency Programs.
---
Employment
Mars Hill is a dynamic and growing church that is always looking for qualified professionals to help with our mission to make disciples and plant churches.
If you're interested in working at Mars Hill, we'd love to hear from you. Candidates for employment must fulfill the duties required of church members and character standards for church leadership, as defined by Scripture. Read 1 Timothy 3, in particular.
To learn more about what it's like to work and serve at Mars Hill Church, check out Church Leadership and Vintage Church by Pastor Mark Driscoll.